This post includes affiliate links. As an Amazon Associate I earn from qualifying purchases.
When it comes to classic Italian pasta dishes, Pasta Puttanesca was one of the most requested sauces I made during my career as a chef.
The simplicity of the recipe creates a complex flavor profile that helps you understand how this timeless classic has become a staple in Italian households around the world.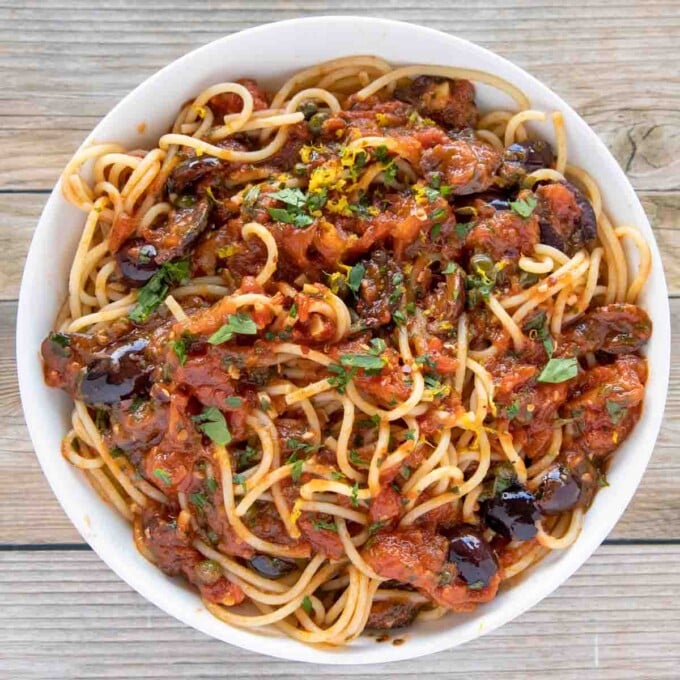 If you've never heard of Pasta Puttanesca, its humble beginnings are linked to the prostitutes of Italy during world war II. Puttanesca roughly translates to "lady of the night" which offers credence to this story, but others point to a different reason, how this pungent, aromatic sauce got its name.
But no matter how the name came about, it is an easy and delicious sauce that will liven up your weeknight meals.
What ingredients do I need to make Pasta Puttanesc?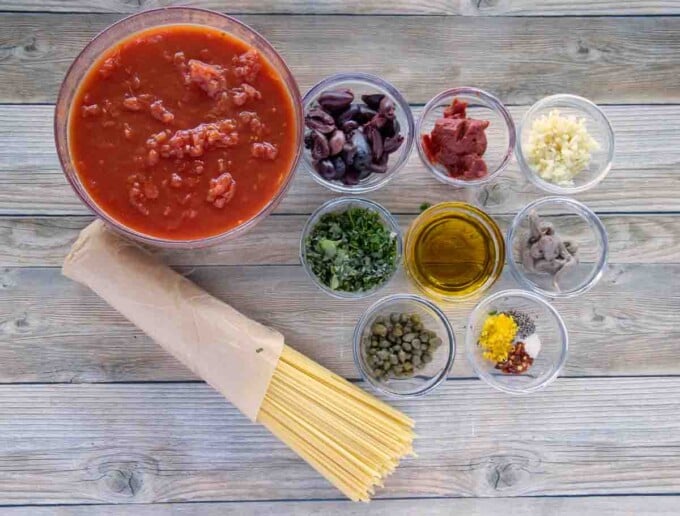 Let's start by gathering the ingredients we need to make Pasta Puttanesca. In Chef Speak this is called the "Mise en Place" which translates to "Everything in its Place".
Not only does setting your ingredients up ahead of time speed up the cooking process, it also helps ensure you have everything you need to make the dish.
Do I have to use anchovies to make pasta puttanesca?
Well, it's kind of what makes this dish what it is. But that being said, if you have an aversion to anchovies, don't use them. My simple rule is to cook with what you like to eat. After all, this is your dinner.
Can I add green olives to this dish?
Of course, you can. Traditionally it's made with Kalamata olives (even though their origin is Greek), but any dry-cured or brined black olive will work.
How do I make pasta puttenesca?
Heat the olive oil in a large pan over medium heat. Add the chopped garlic, anchovy paste and red pepper flakes to the pan. Saute for 1-2 minutes, stirring constantly.
Crush the tomatoes by hand then add them to the pan along with the salt and black pepper. Cook for 8-10 minutes over medium heat, stirring occasionally.
After allowing the sauce to cook, add the tomato paste, olives and capers to the pan. Turn the heat down and let the sauce simmer for 10 minutes.
While the sauce is simmering, cook the pasta in salted boiling water according to package directions.
Remove the sauce from the heat and stir in the basil, parsley and lemon zest. Season again with salt and pepper to taste as needed.
The finished sauce is a thing of beauty. Typically this sauce is cooked fairly quickly, but feel free to allow the sauce to simmer for up to an hour. It will make the sauce even more flavorful.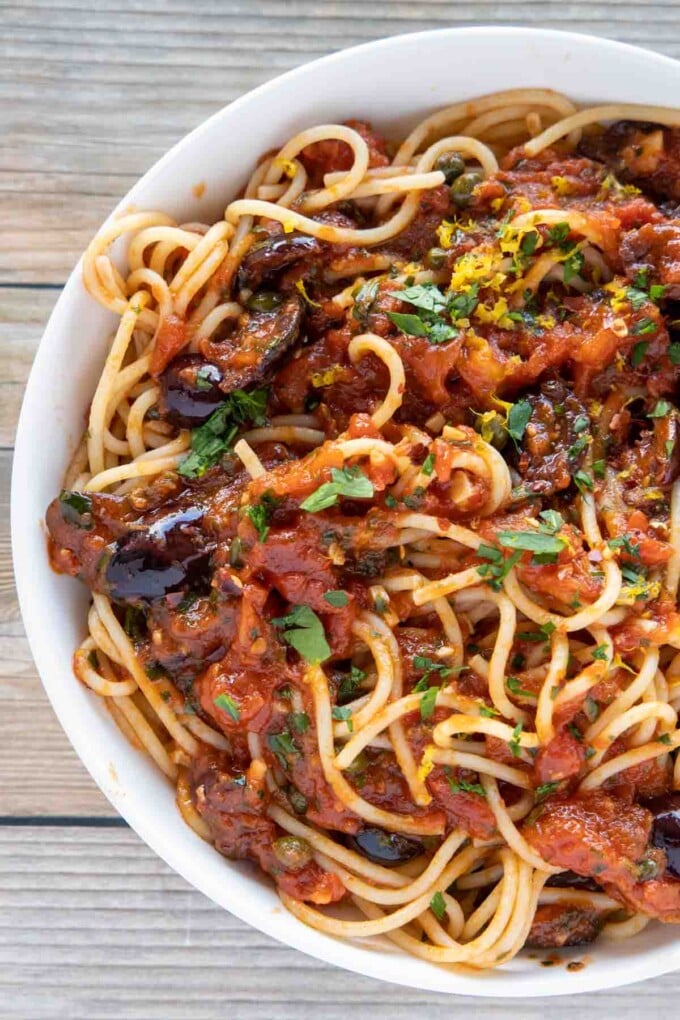 Drain the pasta and toss with the sauce. Garnish the dish with chopped parsley, lemon zest and crushed red pepper flakes and enjoy!
Wouldn't this make a delicious night dinner?
More Pasta Recipes You'll Love!