by Michelle Sutton-Kerchner
Despite our DIY world, even champions need help sometimes. World Champion Toni Geiger shares how a little help nurtures our inner winner …
Climbing to the Top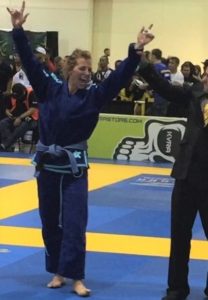 Member Toni is a multi-sport athlete. She did not begin to focus on judo until age 20. However, judo training only three days a week led her to become one of the nation's top three judo fighters. This reality motivated Toni to reach beyond her comfort zone and chase down greatness. By her late 20s, she experienced tremendous personal and athletic growth. She realized she was cultivating a dream. She was inspired to become an Olympian.
Toni worked her way to becoming a Team USA judo athlete through which she earned multiple medals. At age 33, she earned the title of world master champion in Brazilian Jiu-Jitsu.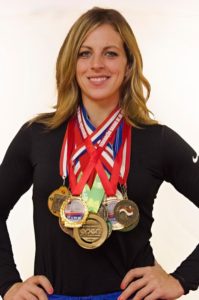 As with all winning streaks, they cannot last forever. Several factors, including an injury, caused an abrupt finish to Toni's career as a champion athlete. Twenty years of training, world travel, competitions, and extensive expenses—while working and attending school—came to an end.
The Recovery
With the positive spirit she cultivated from judo, Toni used her strength and knowledge in new ways. She worked at fusing her passion for sports and love of children into a new career path. To bring this to life, Toni launched her business: ChampFusion. To maintain her champion-honed power, she became a Center member.
The Next Phase
Without the support system granted to a world-class athlete, Toni found she struggled. A combination of challenges, including lingering injuries and lack of accountability, set the stage for a stagnant, unstructured fitness program.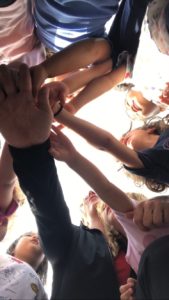 "I was drowning. I needed a life raft," admits Toni, who independently exercised for a year without much progress. ChampFusion was soaring and she needed her health in order to evolve this new endeavor.
Toni created her business to help young athletes. "We advocate for the social, emotional, and physical development of children through fun physical challenges, sport sampling, art, acting, and positive mentoring," she relates with pride. For champions-in-training, ChampFusion provides flexible income opportunities to accommodate their rigorous training and travel schedules.
Toni uses her business to help kids experience the organic reason sports exist, which is for fun, friendship, and valuable life skills. She works to offset the steady decline of youth in sports and combat childhood obesity. "I'm hoping to save this next generation some time. I'm sharing lessons it took me 30 years to learn as a world-class athlete with a teaching background," says Toni.
Welcoming the Help of Others
Ironically, the champion-helper needed help. Toni did what some consider unthinkable. She acknowledged this need for guidance. She took the courage to ask for the help she desperately needed.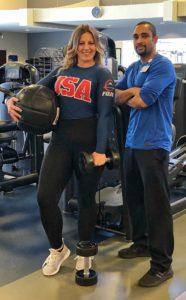 Trainer Jarrett opened his arms to this champ in her moment of weakness. Jarrett became her informal "accountability partner," the boost she craved. After only three weeks of his oversight, Toni already lost about 20 pounds.
"I'm a competitor at heart. Just knowing I'm being observed has a motivating impact on me," Toni informs. She acknowledged her need to live the valuable life lessons she teaches her students.
While transitioning to entrepreneurship, Toni lost track of her own fitness needs. Although seeking help can make one feel vulnerable, she quickly realized the benefit. "I've gained so much from just having Jarrett as an 'accountability buddy,' available on the Fitness Floor," she relates. Now, Toni is considering taking this positive experience to the next level by hiring Jarrett to be her personal trainer, her champion.
Returning from the top—whether an emotional high, a big game, or another major win—does not have to be lonely. As Toni notes, "It feels good to be at the Center, in its spa-like atmosphere. It reminds me who I am: a champion who is strong enough to need others."
Related Articles: